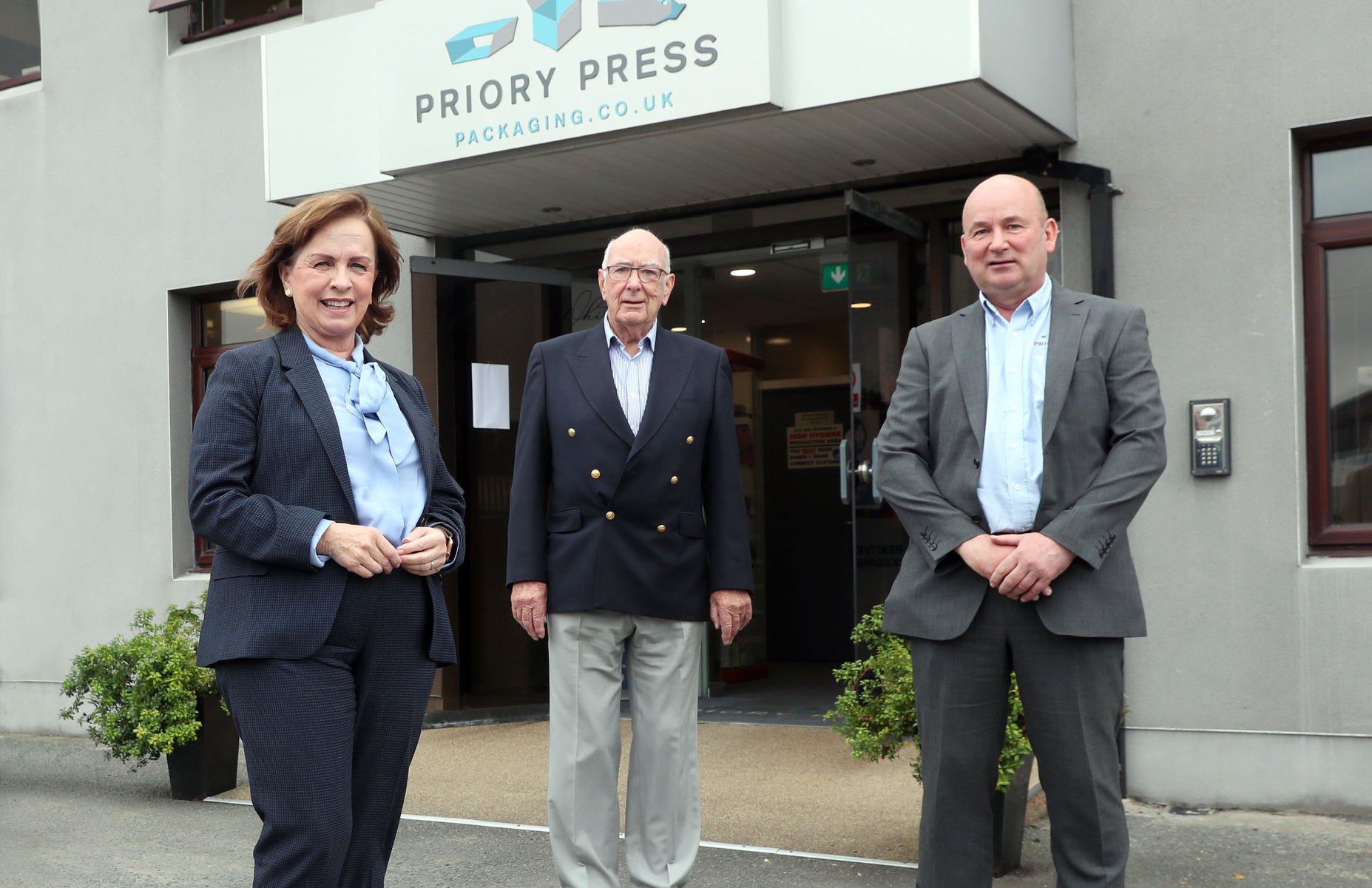 Economy Minister Announces Investment for PPP
The Economy Minister, Diane Dodds, visited our premises on the 16th September to discuss our investment in new machinery, coping with COVID-19 and expansion into new markets.
Invest NI has been working with Priory Press Packaging since 2011 and has offered us a range of support including trade market visits, job creation, skills development of staff and technical product assistance. This latest offer will not only help with the investment of the new machinery, but will also create two new jobs within our production process.
The Economy Minister said: "This is a significant investment by Priory Press Packaging. The new machinery will allow the company to increase export opportunities and the overall productivity of its business. It comes after the company spotted a niche gap in the market and will allow it to diversify to supply products for the pharmaceutical market."
Mark McConville, Managing Director said: "While there has been a continual demand for our packaging in the food retail sector, we have recognised a gap in the pharmaceutical market for our services since the pandemic.
By investing in specialist machinery, and employees with the skills to operate this effectively, we hope to be able to break into this new sector and grow our business in international markets, beginning with ROI. Invest NI's long term support has been invaluable and has been key in bringing our business to the level it is today. It is also helping us secure our ISO accreditation for the Pharmaceutical Packaging Standard, which is important for us to be credible within the sector and will open doors with potential clients."
The Minister stated that "It is good to see how Priory Press Packaging has identified and adapted quickly to capitalise on new opportunities. I trust this gives other businesses hope as they currently evaluate the post-Covid landscape. Diversification is going to be an important part of our economic recovery and my Department and Invest Northern Ireland are positioned to help companies adapt, recover and rebuild."
Our specialist Komori printing press will be within our factory by the end of the year. It is designed for the needs of the pharmaceutical sector, with high-speed cameras preventing errors on print runs and will allow jobs to be remotely authorised before printing begins.
We look forward to our new printing press arriving so that we can continue to develop our product portfolio and expand our market opportunities.