NEAT! Fresh
"Big taste, small footprint." That says it all! With an aim to produce fine Gluten & Dairy free meals with a huge emphasis on looking after our world, this new company is going to take the UK by storm. 
NEAT! Fresh were keen to get our FSC® logo on their packaging as they stand for sustainability and being environmentally friendly. We love that their packaging base is made out of compostable Bagasse, lid is RPET (the most recyclable of plastics) and their sleeve is of course on FSC® certified card.
We wanted to know what was the motivation behind their ideas, their FSC® sleeves and all things Gluten and Dairy free!
What was the inspiration behind your brand? 
We are two huge foodies who, a while ago, set out to clean up our diet a little and also give Gluten Free a try to see it helped with some of the typical Gluten related symptoms we were experiencing.
We've not looked back since that day and we wanted to cook both Gluten, (and Dairy free, it turned out) meals using locally sourced ingredients, which we will deliver from our NEAT! Kitchen to your freezer.
Having both been in 9-5 jobs working for huge companies or other people for all of our lives, we decided it's a now or never approach, with us in our 40's to work for ourselves, with the long-term plan of being able to quit our jobs and the rat-race as soon as it becomes viable to do so.
We want to show my girls that when you put your mind to something, have passion for it and work hard, you can achieve your goals and live your best life.
If you had to pick a favourite meal from your range, what would it be?
It's so hard to pick just 1 !!  So, I will have to go with 2.
Full Metal Jackfruit – One of our Vegan range, Jackfruit with jerk seasoning served with rice and peas and a sprinkling of fresh dried apricots, coconut shavings and jerk seasoned toasted cashews.
Forrest Gumbo – a rich and deep flavoured chicken and ham gumbo, served with brown basmati rice and topped with fresh extras of dried apricots, parsley and BBQ nuts and seeds.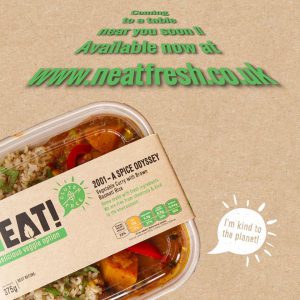 Was it important to pick a packaging supplier that had a similar environmental ethos to yourselves?
Absolutely, from the moment we started talking to and dealing with you guys at Priory Press, we knew that we had chosen well.
We really do not like it when easy cooking comes at a cost to the environment, so we have pledged to stick to what we call 'Honest Convenience.'
Single use or non-recyclable materials are not for us, neither is food which has travelled 1000's of miles. We are working with small local suppliers, supporting other families and all of our packaging can either be re-recycled or put into your garden waste.
It is so important to us that we use packaging from responsible sources so we were thrilled that you could provide FSC Mix certified card for our meal sleeves.
What was your experience like with working with Priory Press Packaging?
The advice you gave and your answers to our relentless questions instantly made us feel assured and confident in your abilities. All that was before we saw samples of your outstanding work. When the samples arrived we were so excited as you were finally helping turning our dreams into reality.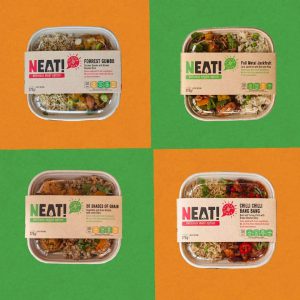 What is your favourite thing about your sleeves?
We love our designs and how they have come to life, they look exactly as we had hoped: Natural, organic and quirky.
What is next in NEAT! Fresh's journey?
We have plans, lots of plans for the next 3 years and would love to give back to our local community by donating both funds and meals to local people and charities in need.
Their future plans are amazing! We cannot wait to keep up with NEAT! Fresh's journey.
You can do so also through their Facebook, Instagram and Twitter.