Perforated Presentation Dispenser Box
S.D. Bell's exquisite new boxes are a functional solution for displaying their envelope range of high quality blended teas. One design feature of the box is the perforated semi-circle at the bottom of the face of the box. Once the perforation has been torn, the structure of the box allows for the tower of teabags to cleverly drop each time a tea bag is removed and thus dispenses the tea as and when required. Producing this type of presentation box highlights the quality of the brand and product. The packaging design and finish should compliment this as the box is continuously visible, handled and used until the product is empty.
The product is easily stacked in the box through the tuck end lid. Finishing the box with elements of gold foil adds another dimension to the overall look and feel of the brand. It emphasises the well established brand that is S.D. Bells. The vibrancy of each box makes it stand out and appeal to the consumer. Buy S.D. Bells range on their website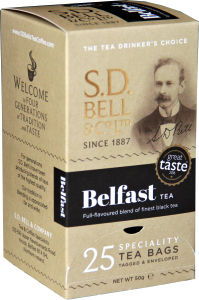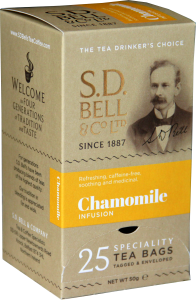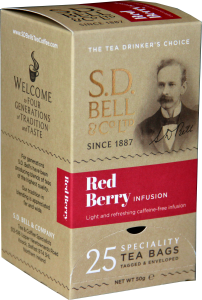 "Priory discussed the brief with us at length, and from the very start, went out of their way to understand the brief, and provide us with repeated samples, until we were happy with the material design. They were very helpful in identifying what was possible, sensible and effective, in particular with the judicious use of foil, to gain the best possible shelf-presence without going over-budget. They are a busy team, and at times it was clear that their increasing customer demand meant that they were a bit stretched, but generally the timescale expectations that they set were met, and I am thrilled with the result. We are already discussing the next product line, a re-vamp of our 60-plus range of Speciality Leaf Teas!"
– Robert Bell, Managing Director, SD Bell & Co Ltd.