With nine out of ten customers calling for a plastic-free aisle according to a poll commissioned by campaign group A Plastic Planet (Independent.co.uk, July 2017), it is more important than ever for food producers to consider the green credentials of their packaging.
As we approach Christmas, our gastronomical consumption hits astronomical heights, meaning our food packaging waste is nothing short of substantial. Here at Priory Press Packaging, or PPP as we like to call ourselves, we believe it is a shared responsibility between us as packaging experts and our client food producers to provide a sustainable packaging solution. So how can you capture the customers' discerning eye while not compromising on quality?
We know that our customers have customers too, and they're becoming increasingly conscious about their packaging waste and the pressure being placed on them by local authorities to reduce their refuse. We're also under no illusions here that our packaging will eventually end up in that customers bin. This means we've invested to ensure we can produce premium packaging without the worry of recycling repercussions.
All of our carton board packaging is 95% biodegradable, and 100% recyclable. The 5% that cannot be recycled is for packaging that has been window-patched. But we've already got that covered as we've sourced biodegradable window-patch film for one of our customers, and we're happy to make a habit of it for other customers if it means reducing waste.
The board that we print on is sustainably sourced and FSC Certified from the mill, our inks are natural and soy-based and our sealants are water-based. If that isn't enough reassurance, our printing plates are chemistry free. We've eradicated unnecessary chemical consumption, rendering our printing plates completely recyclable. Finally, our printing machines are powered by renewable energy through Go Power.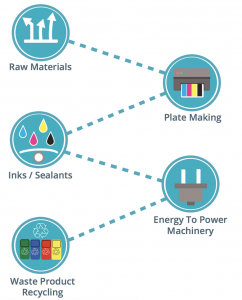 This all means that quality does not take a back seat. In our BRCGS AA certified facility, we design print and produce packaging which is as traceable as a fingerprint, with all the finishing touches you may need – window patching, in-house hot foiling, UV varnish and embossing.
We've adapted our processes and packaging to be environmentally friendly, not just because it's a necessity for some of our customers, but an amenity to all of our customers.
We're delighted that they can say with confidence that their packaging is sourced from an environmentally and ethically considerate company. Believe us when we say carton board is the way forward folks, and you heard it here first.
So, do you need moreish mince pie packaging that pops on the shelf – where the only guilty after thought for your customer is the calories? Then consult PPP.


Source: http://www.independent.co.uk/environment/plastic-free-aisle-supermarkets-products-packages-survey-groceries-nine-ten-people-uk-a7859066.html