It's Cool To Be Kind!
Happy Monday! Yesterday was Random Acts Of Kindness Day – We hope you spent it accordingly!
For our Random Act of Kindness, we would be delighted to giveaway an Itty Bitty Inspiration Box from our lovely customer, Itty Bitty Book Co. Who better to promote kindness than Astra and Al! They quite literally took a leaf out of their own book to follow their dream and become their own boss. The ultimate Dream Team.
You might have already read their profile on the "Our Customers" section on our website (if you haven't, have a look at how much baby Ché Phoenix has grown). This power couple started their successful business back in 2013 and they send positive vibes to people all over the world with their mini inspiration books.
They contacted Priory Press Packaging seeking a beautiful presentation box for a set of 3 Itty Bitty books:
 "Priory Press took a vague idea that was in my head and made it an even better reality! The quality and originality of our packaging is incredible – people comment on it all the time! I'm very grateful to the patience of the team at Priory Press for helping make it happen. I felt welcome whenever I visited the office, despite my many changes and questions the team were always so friendly, we even got a tour of the factory floor on our print day! I'd recommend Priory Press to anyone who needs packaging – great company" – Astra McNicholl – Founder
Their packaging is certainly eye-catching with a window patch feature, map of Ireland cut-out and a bright, bold turquoise! It corresponds to the noticeable inspiration this couple had from visiting various areas of their country and admiring the beauty along the way. Here are some of the locations they have previously visited: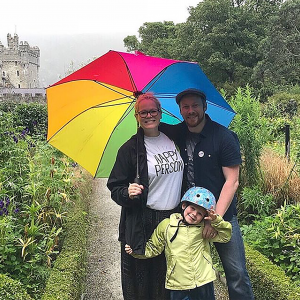 Since re-launching the books in 2017 with their new packaging, online sales have more than doubled and in 2019 they secured an Ireland wide distribution deal with Gill Publishing! We caught up with Astra to find out more about their booming business:
 What's your favourite thing about your packaging? 
"I love the vibrant colours and the matchbox style, slide opening!"
What is your favourite thing about working together? 
"The flexibility, a big part of why Al and I quit our jobs to start Itty Bitty when Ché Phoenix was born, was that we wanted to make sure family time was a priority. Working for yourself – especially in the early years does mean A LOT of work but most of it can be done at crazy times which is hard with a young family!"
Do you think the brand helps with encouraging your family to keep positive? Especially little Ché Phoenix?
"Absolutely, no one has it right all the time so being constantly surrounded by positive messages really helps on the harder days/weeks! Kids really are like sponges and Ché Phoenix has definitely picked up on the upbeat, encouraging vibes of our business, I love it when I over hear him supporting others and showing kindness! This was a big inspiration behind the new gratitude journals – designed for kids and adults to use because we all need help with positive mental health."
We love Astra's positive outlook. The Itty Bitty Inspiration Box can too help you to become more kind!
To enter our Random Acts of Kindness giveaway, please like and share the post on Facebook and Twitter and follow us on Instagram, Facebook and Twitter. If you didn't get a chance to show a random act of kindness yesterday, here are 3 ideas for today!
1. Write a letter to someone you have lost touch with
2. Put someone else first
3. Compliment someone
We loved creating such happy packaging with happy customers. Start your story with us today and we can certainly do it for you too!