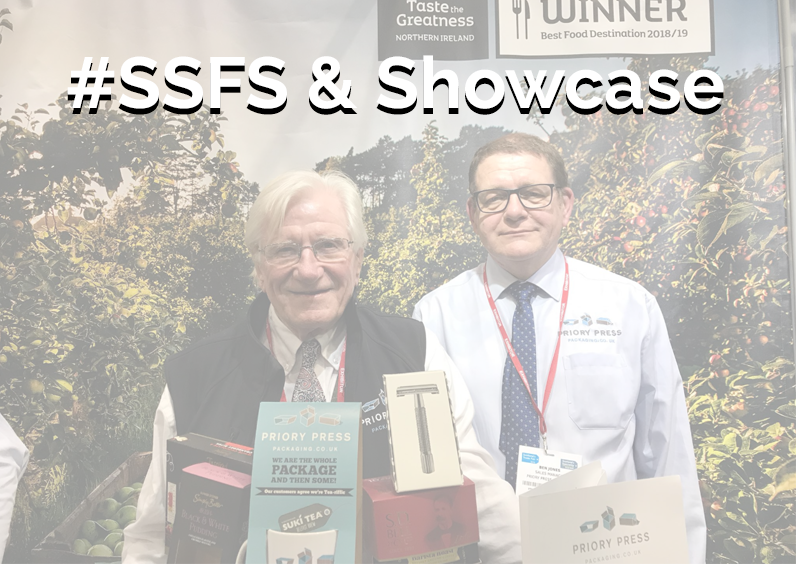 #SSFS & Showcase
We visited two shows within the last few days – we have been very busy bees! Scotland's Speciality Food Show was first and Showcase in Dublin was next!
Priory Press Packaging is a family business so it's important to us that we treat our customers like family! With customers all over the UK and Ireland, that includes catching up when the opportunity arises. Our sales team Ben and Russell chatted to customers old and new. Here's what they got up to!
We were invited to host a promotional stand with Invest NI/Food NI from Sunday 19th until Tuesday 21st January at Scotland's Speciality Food Show. We were on stand N61 with some brilliant local producers including Burren Balsamics, Punjana Tea and Irish Black Butter to name a few. It was hosted in Glasgow's SEC arena – a huge open space for visitors and exhibitors to network, grow their businesses and sell their products!
There were 150 talented exhibitors with new products, current products and launches! We caught up with some of our current customers including Chain Bridge Honey Farm and The Turf Peat Incense Co. We were proud to be involved with Invest Northern Ireland's stand which involved innovative producers.
Showcase
This year was the 44th annual Showcase event in Dublin's RDS, welcoming over 400 exhibitors which is one of Ireland's largest and most important trade fairs over the past four decades. Showcase is dedicated to emerging brands and crafts and there are daily seminars and fashion shows.
We saw a few of our customers including Field Day Ireland, The Turf Peat Incense Co and Farrington Foods. Field Day had a magnificent stall and had been very successful with passers-by. The Turf Peat Incense Co. kindly previously asked if we would like space on their stall for a promotional poster for PPP. As we are a family business, it's important that we have good relationships with our customers; we enjoyed seeing them at both shows and of course, with our packaging in full force!
It is thrilling to visit customers and watch their companies grow at trade shows like these. Keep an eye on our social channels Instagram, Facebook and Twitter to see what we get up to with our next ones!